From AirTOP release version V2.4.0B1 onwards, the GUI allows the user to update its license in a
simplified mode, making use of a wizard walking it through the different steps.
The License Manager is accessible via the Help menu > Manage AirTOP License: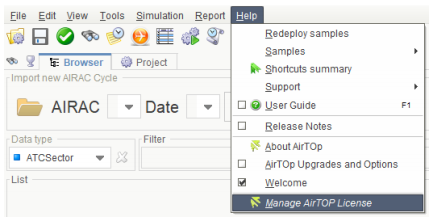 The License Manager will show a pop-up window with the relevant license information:
The AirTOP Release Version Number
The dongle serial number linked to the license
The dongle expiration date, and
The unique license number.
Click Update License to open the Update AirTOP License dialog: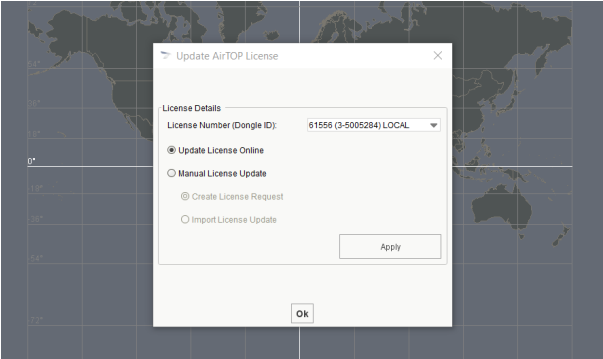 Online License Update
In order to use the Update License Online option, the user must be:
Running AirTOP V2.4.0B1 or later
Running the License Manager from an AirTOP instance that is connected to the internet
Running the License Manager from the machine where the USB dongle is connected
To update your license:
Select Update License Online
Click Apply
Restart AirTOP.
At this point, both the license and the dongle are updated.
Online license update unsuccessful?
If the message 'Internet connection required for online license activation and update' is displayed:
Confirm that you are connected to the internet
Ensure that your firewall is configured as follows in order to access the Transoft Authorization Service
Target IP: Use FQDN
Target FQDN: https://online-auth.transoftsolutions.com
Target Ports: 443 (HTTPS)
Alternatively, please contact our Technical Support team.
Manual License Update
If your instance does not have internet access or if your dongle is connected via the network, you will need to follow the manual update procedure which consists of 2 main steps:
Creating a license request
Importing the updated license file
Creating the license request:
Select Manual License Update
Select Create License Request
Click Apply
Choose a location to save the context file
An email will be created in your default mail application. Attach the recently created context file to the email and send it to support@transoftsolutions.com
NOTE: Make sure you attach the context file you saved step 4.
Once Transoft has received the Context File and we have updated the license, we will send back the update file to be imported.
Importing the license update:
NOTE: This step must be executed on the machine where the USB dongle is connected.
Start AirTOP
Click Help->Manage AirTOP License
Select Manual License Update
Select Import License Update
Click Apply
Select the updated license file received from Transoft
Restart AirTOP.
At this point, both the license and dongle have been updated.